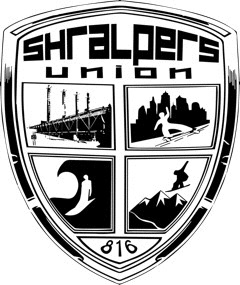 Date Joined: October 2013
HQ: Burning Spider Stoke Company, LLC.
Chapter Leadership
Billy Angus: Co-President
Joe Burnham: Co-President
Life Advice: Step One, Learn Math
Favorite Stuff: Long pushes in the city and on Indian Creek Trail, big sessions at Kessler Park, midnight runs on the Noah-Stoll Loop, Broadway Bomb, skating with our neighbors in the 314 (we don't get to do that nearly enough), PBR, BBQ, pizza… Did I mention beer?
"Push hard, push fast, stay stoked." – Joe B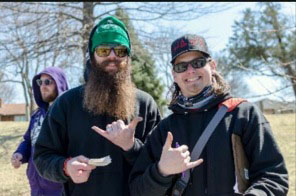 You wouldn't think some kids from KC, middle of the country, a little backwoods and a whole lot of stoked, would be a center for a stoked-out crew like the 816.
When we first heard of the Union, we were on a trip to New York for the 2013 Broadway Bomb. A combination of a lack of funds from opening Kansas City's first longboard skate shop, with just enough money for plane tickets, and a determination to be in the middle of it all got us into LaGuardia, not 100% sure where we were even going to sleep. Just three dudes, Joe B, Billy Angus and Javid Hill, just wanting to skate the best damn outlaw event in the world, wanting to see what it meant to be a New York skater.
We got word from Neil Wieland, who we met at our inaugural bomb in 2012, about this really rad dude, Noel Korman, who would let us crash at his place for a night or so. He impressed us with his mission behind the Shralpers' Union, not because of the words he used, but how he lived it and how it fit with everything we already believed. This rad group of dudes wanted to do so much for the community. They wanted to help the small companies, the big companies and most importantly, all the amazing people who make up sidestance culture, so they'd be able to live, enjoy and help each other out. The Shralpers' Union raised money for charity; they helped those in need.
So here we are, spreading "high fives and positive vibes." We are still pretty star-struck by the whole thing. Belief in the message and the desire to make the industry a rad place, which everyone can be a part of, belief that really great things can come from this and faith that groups of people worldwide can do great things for people in the industry: We, the Shralpers' Union, will prevail.
Too many things are yet to come and this high-frequency movement of the people, and by the people, will carry and drive that message.